Frequently Asked Questions (FAQ)
What makes ARMS superior to other services?
We are the only firm to provide ALL three of the services necessary to achieve the highest recovery rates: billing, collection, AND legal. All are integrated and share the same data. Transferring claims to a billing firm, then to a collection firm, and some ultimately to a legal firm creates massive delays, lost information, and inefficiency which significantly reduce recovery rates.


Our legal services are provided by the most experienced and successful MVA and Workers Comp legal team in Massachusetts.


We are the most tenacious, experienced, and innovative group of MVA and Workers Comp experts in the industry. Unlike other firms, no claim is too small or too old for us to collect. We collect on claims aged from day 1 up to 6 years for MVA and 20+ years for Workers Comp.


Custom developed technology, including Alchemy™, that integrates and automates our services, allowing us to process claims faster and more accurately than anyone else. We are able to respond quickly to changes in strategy or the industry by making changes in our software technology.


Sophisticated document management and scanning system integrated with Alchemy™, which vastly reduces delays and errors associated with handling paper. Our claims processors can instantly retrieve an important document in a claim's file without reviewing the entire file. We also have portable scanning capabilities, allowing us to securely scan medical records onsite so that records never have to leave your facility.

What types of medical claims does ARMS process?
We process any type of insurance claim, from original day-one billing to aged claims that need collection and/or legal action. We handle aged claims as old as 6 years for MVA and 20+ years for Workers Comp. If you have a large inventory of old and written-off MVA and Workers Comp claims, allow us to evaluate if we can turn them into found revenue for your organization.
Is there a fee to place a collection account?
No. You can place any collection account with us and there is no cost or obligation. We only charge a fee when you receive payment on an account that ARMS has collected for you. We also have an effective legal process which can be initiated when our regular collection efforts do not result in payment. If the legal team recommends a lawsuit, there are filing costs and you will be notified of these charges and asked for approval prior to proceeding with such action.
What process do you follow?
ARMS has developed a highly successful and integrated process for working claims that begins with a thorough evaluation of your placed accounts, followed by an electronically automated transfer of claims from your system to ours. Each claim is placed at the appropriate phase of our system depending on whether it is an original billing, aged receivable, or legal project. The figure below shows a summary of typical account flow: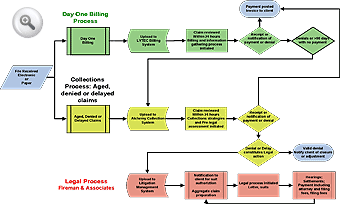 Who handles your legal services?
Upper Falls Law Office handles our claims referred to litigation. They have the most successful and experienced MVA and Workers Comp legal team in New England, having won over 40 appellate decisions in Massachusetts and New Hampshire.
How do I know what is happening to my claims?
ARMS understands that the accounts you place with us are your accounts and you need to monitor their progress. You will have an account manager that you may contact directly at any point to address any questions or concerns that may arise. A schedule of reports that are customized to your requirements will be generated at the required intervals to meet your needs. Lastly, we can customize a process by which we access your system and upload our daily notes into your system. This will assure you of an accurate status of every account that you have placed with ARMS.
What is the advantage of outsourcing these claims?
Hundreds of millions of dollars in liability claims go uncollected as a result of: 1. Billing systems not being designed for liability collections; 2. Hospital and medical providers not having a trained staff and appropriate systems to do an efficient job in this specialized area of billing and collections; 3. Hospital and medical providers often do not invest time or money to sue for rejected legitimate claims that have gone out for collection and returned uncollected.
Liability claims are on average less than 8% of your total AR but can consume a disproportionate portion of your staffing resources. These resources may be better directed to commercial health insurance and government payors that comprise a larger share of your total revenue stream.
Outsourcing liability claims to ARMS will save you labor and resource costs, will improve your liability recovery rate significantly, and allow you to concentrate on health claims that comprise the majority of your total revenue stream.